Zagreb, capital city of Croatia
Zagreb is the capital and the largest city of the Republic of Croatia. According to the last official census, Zagreb's city population in 2017 was 686,568, while its municipal population was 792,875. Town lies at an elevation of approximately 122 m (400 ft) above sea level. The gently sloping hills of Medvednica Mountains and the fertile land of Pannonian Plain makes most of Zagreb. The Pannonian Basin extends upto the Alpine, Dinaric, Adriatic and Pannonic regions making an excellent gateway between Central Europe and Adriatic Sea. The highest peak is Sljeme which reaches an altitude of 1032 mtrs. Its favorable geographic position in the southwestern part of the Pannonian Basin, which extends to the Alpine, Dinaric, Adriatic and Pannonic regions, provides an excellent connection for traffic between Central Europe and the Adriatic Sea.
The transport connections, concentration of industry, scientific and research institutions and industrial tradition underlie its leading economic position in Croatia. Zagreb is the seat of the central government, administrative bodies and almost all government ministries. 
History of Croatia
Zagreb was formed from two historical cities, Gradecand Kaptol, which sits at the foot of the Medvednica mountain, on the River Sava. In the 19th century the two cities were joined together. From the old towns, the old Stone Gate remains, whilst in St Mark's Square we can still see St Mark's Church from the Middle Ages, originally built in the 14th century. In Katherine's Square stands the classically 17th century Baroque Church of St Katherine, around which the Jesuits built a monastery and schools. The Raffay Palace sits in the area known as Gornji Grad, containing many of the historical buildings of Zagreb. Jelacic Square, or the funicular railway, can form the start of a tour, from where it is possible to explore both Gornji Grad and Kaptol, and understand more of Zagreb's interesting heritage.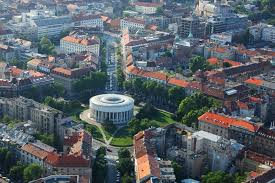 Zagreb these days is home to more than a million people. And, of course, there are plenty of parks within the city for resting - and for those who like more outside activity, the Botanical Gardens, Zoo and nearby mountains offer a range of facilities.