Croatia National Parks - Lakes, Mountains and Islands in Croatia
National Park Plitvice lakes was established in 1949 and has 296.85 km2. It has altitudes from 367 to 1279 m and is a phenomenon of karst hydrography. The park has waterfalls, lakes and forest that transform in a great tourist attraction. Hiking is a popular activity among visitors, but there are also electric boat and train ride, skiing, rowing and cycling available.

National Park Paklenica has the impressive canyons of Velika Paklenica and Mala Paklenica and has impressive karstic relief forms such as cracks, groves, caves, pits. The flora is varied, including 1000 plant species and subspecies, prevailing daisies, grasses, legumes, mints, roses and carnations and the rare lady slipper orchid. There are oriental hornbeam forests, beech forests, black pine forest. The fauna is varied and consists of intervertebrate species, Butterflies, 31 amphibian and reptile species and 11 snake species. There can be seen 230 species of birds and mammals have 53 species so far.
National Park Risnjak has a complex structure of carbonate rocks, and its relief is characterized by meadows, underground caves and limestone fields. The fauna is formed by the brown bear, the wolf, the lynx, chamois, red deer, roe deer and wild boar. Within the park area have been recorded 114 bird species. For alpinists and visitors there are numerous hiking paths towards the Veliki Risnjak and Snjeznik. You should definitely enjoy the view and silence of the forest while riding a bike. Fishermen are invited to join in sports fishing along the Kupa River.
National Park Brijuni includes several islands: Veliki Brijun, Mali Brijun, Gaz, Okrugljak, Supin, Suspinic, Galija, Grunj, Vanga, Pusti, Vrsar, St Jerome, Kozada. The stones are white, of marble and abundant in clay. The flora has Mediterranean characteristics with macchia, meadows, holm oakforests, laurel forests and conifers. There are the pen shell and date shell in the waters of the park, as well as turtles, dolphins, black tang and tunicate. We can also find sponges, shellfish, sea urchins and fish.
National Park Mljet borders the Veliko and Malo Jezero salt water lakes that have around 4 kilometers. One can cycle or stroll along the paths that encircle the lakes. You can also rent a kayak at Mali Most or swim and sunbath in the Park. You can also go hiking uo the hills to get a wonderful view of the Mljet coastline. No motor vehicles are allowed in the park itself, but only along the island.

National Park Kornati is considered a nautical paradise, where you can test your nautical skills. There are 89 unforgettable islands, islets and cliffs you should see. You have not seen anything of the beauty of the Park if you do not experience diving into the undersea world. Swimming into the crystal clean and warm water of Kornati sea is a major attraction. You should see the Turet fort , Three-Apses basilica and the Church of Our Lady of Tarac, Venetian Catle, Piskera and the church on the Island of Piskera.

National Park Krka has seven waterfalls and is rich in flora and fauna. 222 species of birds live here. You can see presentations of hunting with hawks and the hawk trainers' skills. Zlatin Island is famous for coral divers and Krapanj is known for sea sponge divers. The waterfalls will certainly impress you and make your heart beat faster.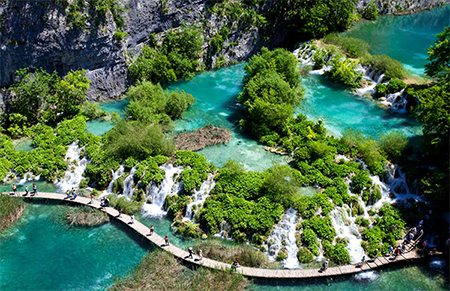 While you visit the National Park Northern Velebit you should see the Hajducki and Rozanski kukovi Strict Reserve, that has plenty areas that remained out of human touch, the Premuzic's trail, that leads to the most beautiful part of the park, Visibaba botanical reserve and Borov vrh forest reserve.