Top five Adriatic islands
The Adriatic Sea is dotted with more than a thousand Croatian islands and it can be quite a task to choose which ones you should visit. Here is a list of the top five Adriatic islands that you must visit if you are in search of tranquility, gourmet food or some adventure and fun.
Mljet
Mljet is a 37-kilometers long, lush green island, situated off the coast of southern Dalmatia. Mljet serves as a national park that has dense forests, many vineyards and three salt lakes. If you are in search of tranquility and want to while away your time boating, cycling and eating well, this island is the ideal destination for you. Reach one of the two towns Polace or Pomena and head out towards Govedjari, which is where the national park begins. You can rent a tourist boat or a rowboat to reach the Benedictine Monastery at Veliko Jezero, stroll around the 12th-century St Mary Church and sip on your favourite wine at Restoran Melita, which offers a scintillating view of the waters. At the end of the day, you can rent a bicycle to explore Saplunara, the stunning sandy beach at Mljet.
Vis
Vis is the farthest island from the central Dalmatian coast and it is simply breathtaking. Earlier, it served as a base for the Yugoslav Army and thus remained closed to foreigners but after the socialist era ended, the island was pretty much deserted by its local population. In recent times however, the deserted feel of Vis has managed to emerge as its trump card, making it one of the most popular choices for travelers in search of unspoilt natural beauty. Vis produces some of the finest wines in Croatia and has delectable dishes to offer its visitors. Both centers including Vis Town and Komiza happen to house 17th-century architecture upon cobbled streets. Konoba Bako at Komiza serves lip smacking fish preparations and offers a fantastic view of the sea. Natural Holiday at Vis is a luxurious, eco-friendly camping ground where you can rest inside Bedouin tents and wear the shoes of wandering hippies.
Hvar
Hvar is a beautiful, upmarket island, perhaps the most popular island, in Croatia. Life at Hvar Town is all about clubbing, yachting and crashing at five-star hotels while Jelsa and Stari Grad are all about culture and history. While at Hvar, you can visit the largest town square in Dalmatia called Trg Svetog Stjepana, where you will also find a 17th-century arsenal that was eventually converted into a Renaissance theatre. This site along with the St Stjepan Cathedral is a glorious example of Dalmatian Renaissance architecture. At Hvar, you can opt for a number of adventurous water sports or simply relax while sunbathing at the Pakleni Islands.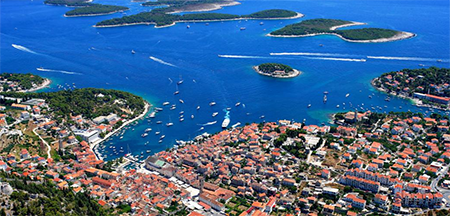 Brac
While at Brac, you must visit Bol, the loveliest town on the island. With a long stretch of pine-tree-shaded promenade and a beautiful historic center, there is a lot to enjoy at Brac. Zlatni Rat, the iconic beach on this island happens to be the most photographed beach in Croatia and offers its visitors many water sports including windsurfing, coral reef diving as well as a trip to an underwater cave. After your stint in the pristine waters surrounding Brac, you can feast on lobster preparations at Ribarska Kucica, a scenic restaurant alongside the promenade. At Milna, you can discover a virgin fishing village that also houses 17th-century architecture and peaceful coves conducive to swimming and sunbathing. There are innumerable options for budget accommodation in Brac and you can always rent a boat or a yacht to maneuver through the waters.
Pag
Pag is located off the coast of northern Dalmatia and its grand architecture is captivating. While at this island, you can attend wild parties on the famous Zrce Beach and do not forget to indulge in paski sir, Pag's classic hard, salty sheep cheese soaked in olive oil. It is best eaten with tender lamb meat served at Bistro Na Tale where you can also find an array of fresh fish preparations.