Split – A Croatian City You Would Love To Visit!
Split is second largest city in Croatia is economic, administrative, educational, sport and tourist center of
Dalmatia county
(Middle Dalmatia). Town has become a major tourist destination in Croatia and is not only attractive because of its natural beauty, but it is in fact a culturally and historically rich city. The name Split is a souvenir from all the empires that have reigned over the country in the last few centuries, which was originally derived from a spiny-broom shrub found abundantly in the region. Although, economically the city is in a precarious position due to the country's shift from socialism to capitalism.
Getting
to Split.
Tourist offer
Even so, a huge chunk of Split's revenue is generated through tourism, which is why they focus largely on developing that sector. Town is indeed an amazing spot for vacationers and has countless recreational activities to offer the tourists and its inhabitants, which includes Tennis, Football, all kinds of Water Sports and Basketball. As a matter of facts, town encourages more people to pursue a career in athletics professionally. Therefore, for hardcore sport fanatics, the city would be their Eden, as they can partake in several activities that can satiate their appetite for adventure and a much-needed adrenaline high. There are attractive accommodations and lodgings available for tourists; with the city's natural splendor and gorgeous beaches, one can have a great peaceful time as well. In city surrounding you can find so many interesting places to visit.
City today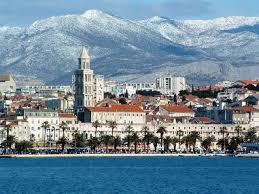 Various offer of accommodations are some of the arrangements to choose from to cater to the diverse tastes of tourists and backpackers. The sun always shines over Split as it gets nearly 2600 hours of it every year. The city is endowed with beautiful hills,like Marjan hill where tourists can also embark on an amazing gastronomic adventure and indulge in some of delicious and mouthwatering Croatian cuisine. There are many restaurants to choose from that offer a wide variety of eatables and it is also great city for clubbers. There are plenty of places where the people can enjoy a drink and socialize with the native population. City offers a great retreat to the tourists from their daily mundane lives, which makes them feel replenished and completely relaxed in the exotic environment. Check some of main Split sights.


Besides offering physically challenging activities, the city is also a great place to discover an outlandish culture and country. They can discover all of this through the many museums and galleries that provide a glimpse in to the eventful past of the locality. The beauty of the city is a great treat for vacationers, which is why most of them find it incredibly difficult to actually part with this pleasing place. The sentiment that city ignites within its visitors is vaguely reminiscent of a dialog from the blockbuster film 'Pirates of the Caribbean': "it is not getting there that is the problem, but getting back". The best time to visit Split is during spring and summer.